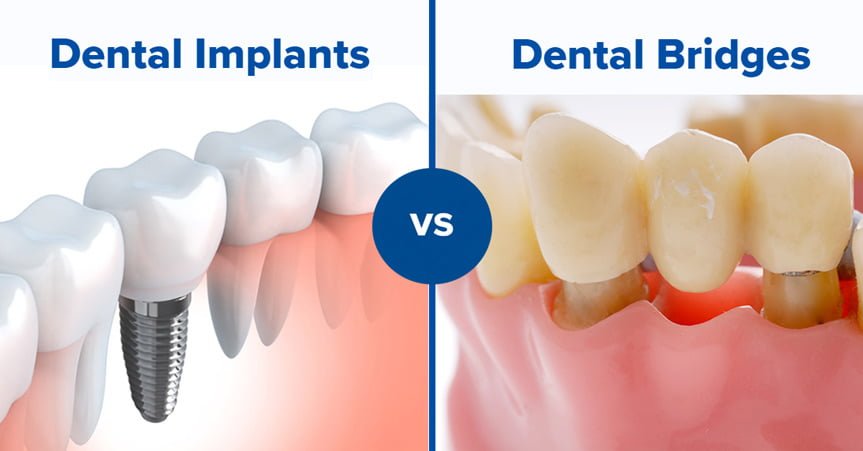 Replacing missing teeth is an important aspect of your dental health and helps you with getting a perfect smile. The best and most common options are dental implants and bridges to replace your missing teeth. Previously, we've published an article on dental implants, which can be accessed by clicking this link. In this article, we will discuss which option may better suit your dental need.
What is a Dental Bridge?
As the name implies, a dental bridge bridges the gap between teeth resulting from a missing tooth. It attaches to the surrounding healthy teeth of the gap to create a bridge across the area. Generally, the surrounding teeth are shaved, permanently changing the natural tooth shape to accommodate a bridge. Once the surrounding teeth are shaped properly, a cap is placed over both of those teeth and the bridge is placed. Teeth that can handle less force or if replacing a single tooth with a bridge, dentists now often use a winged or Maryland bridge that's embedded into the surrounding teeth, instead of using the traditional method that fully caps them.
The main advantage of bridges is that they are less expensive than dental implants. Also, bridges don't require osseointegration like dental implants, which may take several months. Moreover, dental bridges don't require bone grafting unless bone loss is present. 
The biggest disadvantage of bridges is that they place a greater strain on surrounding teeth, reducing the durability of the bridge. Because of this, a bridge is rarely expected to last a lifetime. Moreover, bridges don't address concerns about underlying structural problems, which may lead to further dental complications due to loss of teeth.
Dental Implants
A dental implant replaces a missing tooth with a metal post, generally made of titanium. Once the bones of that missing tooth socket properly infuse with the metal post, a dental crown is placed on the implant. This process can take several months. Unlike bridges, dental implants are stronger and can last a lifetime.
The biggest advantage of dental implants is they place less of a burden on the surrounding teeth and can heal the bone structure and gums under the teeth. They also reduce long term risk posed to the jaw. 
A disadvantage of dental implants is they are not as cost-efficient as dental bridges. As each missing tooth requires one individual implant, replacing multiple teeth can be very expensive. 
What's best for me?
Depending on your dental health and the number of teeth missing, your dentist may offer either implants, bridges, or a mixed solution. If you are missing a single tooth and there is no possibility of further complications in the missing tooth socket, your dentist may recommend a bridge. But if you don't want to take any risk and would like to get back your perfect smile, implants may be a better option for you. If you are missing a large number of teeth, your dentist may offer a mixed solution, using bridges with implants.
Thinking about replacing missing teeth? Call the award-winning best dental office in Scarborough – Dr. Salim Kapadia Dental Centre today at 416-321-3268 or click here to book an appointment. Dr. Salim Kapadia Dental Centre also accepts walk-ins and emergency cases are seen right away.
Share This Story, Choose Your Platform!